The Night Hawks
""This is a superior series...""
Synopsis:
The Night Hawks, a group of metal detectorists, are searching for buried treasure when they find a body on the beach in North Norfolk. At first, DCI Nelson thinks that the dead man might be an asylum seeker, but he turns out to be a local boy, Jem Taylor, recently released from prison. Dr Ruth Galloway is more interested in the treasure, a hoard of Bronze Age weapons. Nelson and his team believe the death to be an accidental drowning, but a second death suggests murder.
Nelson is in for a busy time when he is called to an apparent murder-suicide of a couple at an isolate farm house called Black Dog Farm. The house and its occupants are shrouded in mystery and will take all of Nelson detecting skills to unravel what really went on at the time of the shooting.
Local legend talks of a Black Shuck, a spectral hound that appears to people before they die, Nelson ignores this, even when the farm house owner's suicide note points to something buried in the garden and Ruth uncovers the bones of a giant dog.
All roads lead back to this farm in the middle of nowhere, but the place spells serious danger for anyone who goes near.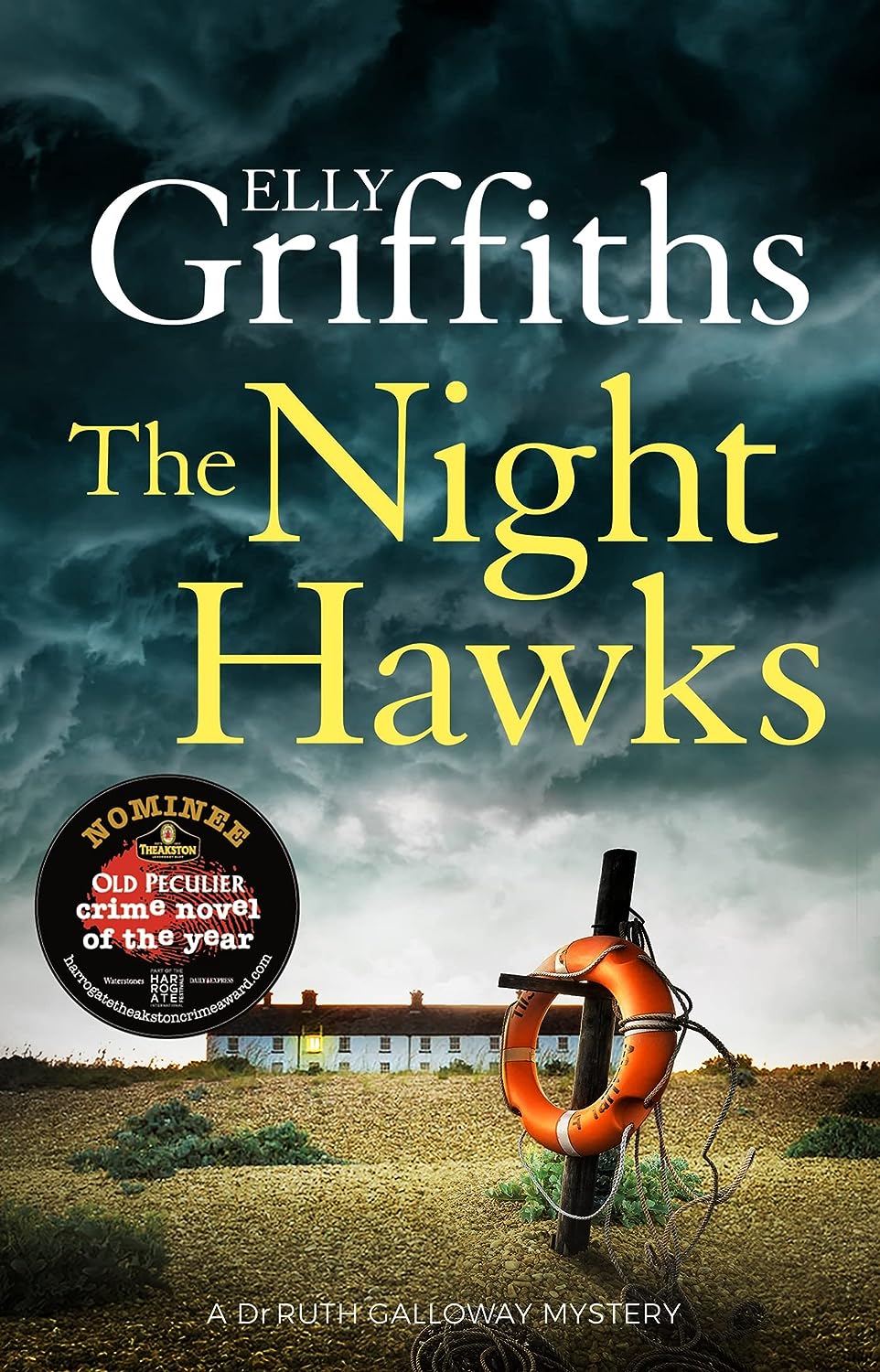 Purchase the book from Amazon.
Review:

The thirteenth novel in the Dr Ruth Galloway series and this is as fresh and original as the first. As well as being a first class writer, there is something comforting in the style of Elly Griffiths. You only need to read the first few pages and it's like meeting up with old friends and you immediately remember everything about Ruth Galloway, Harry Nelson and Cathbad. After thirteen books, these people are not strangers, and it's very easy to get sucked into their world. 'The Night Hawks' is no exception, and it's not just the troublesome personal lives of Ruth and Harry that presents the drama. A young man washed up on the North Norfolk coastline. A murder-suicide. A suspicious death on the beach and the untimely death of a police officer are woven together in a labyrinthine plot so deftly written you won't be able to turn the pages fast enough to discover what happens next. The attention to detail and level of research does not feel plucked from a website; when put into the mouth of Galloway it sounds natural as if Ruth is telling the story rather than a writer. The plot races at a break-neck speed and my only fault is that I finished the book too quickly and will have a long wait until Ruth, Harry, Cathbad, Judy, Tanya and Michelle are back in my life again. The mixture of science and folklore are blended perfectly and Cathbad is a wonderful antithesis for Ruth. We could all do with a Cathbad in our lives. He's a favourite character of mine and I'd love to see him take centre stage in a future book. This is a superior series which should be on the shelves of every crime fiction addict.