Title Of Book:
The Three Dahlias
"Three rival actresses team up to solve a murder at the stately home of the author who made them famous "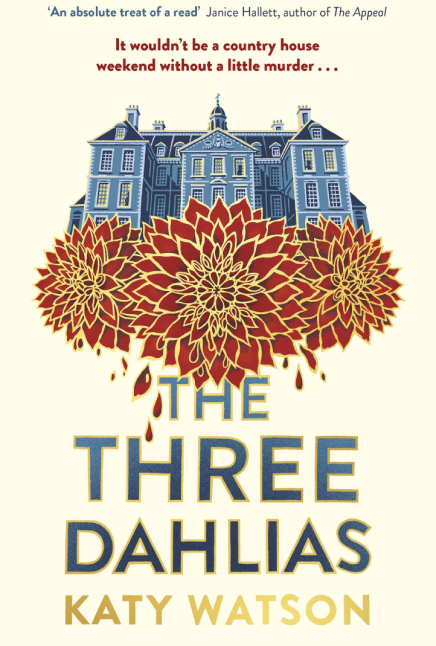 Synopsis:
Three rival actresses team up to solve a murder at the stately home of the author who made them famous - only to discover the solution lies in the stories themselves. A contemporary mystery with a Golden Age feel, perfect for fans of Agatha Christie and Jessica Fellowes. In attendance: the VIP fans, staying at Aldermere; the fan club president turned convention organiser; the team behind the newest movie adaptation of Davenport's books; the Davenport family themselves - and the three actresses famous for portraying Lettice's 1930s detective, Dahlia Lively.
Review:

There have been many books that harp back to the nostalgia of the Golden Age of crime, but with Watson's debut she brings to her story a wonderfully written novel stuffed with Christie-esque wonder. Here, Watson brings us Golden Age in modern times. Watson gives all three of her main protagonists distinctive voices. I don't know why, but I kept hearing the voice of the late Dame Diana Rigg whenever Rosalind King spoke! I thought I may have little time for the youngest of the trio, Posy, but again Watson gives her a flawed personality, but Posy recognises her faults and endeared herself to me. Caro was the image of the 'Grande Dame' of TV who has fallen on difficult times through being typecast as Dahlia. But it is a role she performs with relish long after the cameras have stopped rolling! All are given their part to shine throughout Watson's story. I had thought that three detectives would be one too many, however I feel that all three are diverse but complement each other. The story is steeped in the books of Lettice Davenport's 'Dahlia Lively' novels and the setting of her old home, Aldemere simply adds to the atmosphere. There is even a boat house and a folly with a murder mystery on the estate which is reminiscient of Christie's own, 'Dead Man's Folly', which was set on her Devon summer home, Greenway. It is these touches that bring the Golden era to the fore. Don't worry, Watson's homage to Christie may ring bells with many crime readers, but that is where it ends. The crime and solution is all from Watson's imagination and has a Golden Age feel with a contemporary twist. 'The Three Dahlias' is one of those books that steals your time as I couldn't put it down. Watson wonderfully brings yesteryear to the present and delivers a hugely enjoyable read that Christie and co would have been proud to have written. A total joy – and there will be more from the three Dahlias to come which itself is cause for celebration. 'The Three Dahlias' is a truly scrumptious slice of detective heaven!