Stargazer
""This is a beautifully written novel, rich in atmosphere with a compelling and complex central character. ""
Synopsis:
Diana Martin has lived her life in the shadow of her sadistic older brother. She quietly watches the family next door, enthralled by celebrity fashion designer Marianne Taylor and her feted daughter, Aurelle. She wishes she were a 'Taylor girl'.
By the summer of 1995, the two girls are at university together, bonded by a mutual desire to escape their wealthy families and personal tragedies and forge new identities. They are closer than lovers, intoxicated by their own bond, falling into the hedonistic seduction of the woods and the water at a remote university that is more summer camp than campus.
But when burgeoning artist Diana has a chance at fame, cracks start to appear in their friendship. To what lengths is Diana willing to go to secure her own stardom?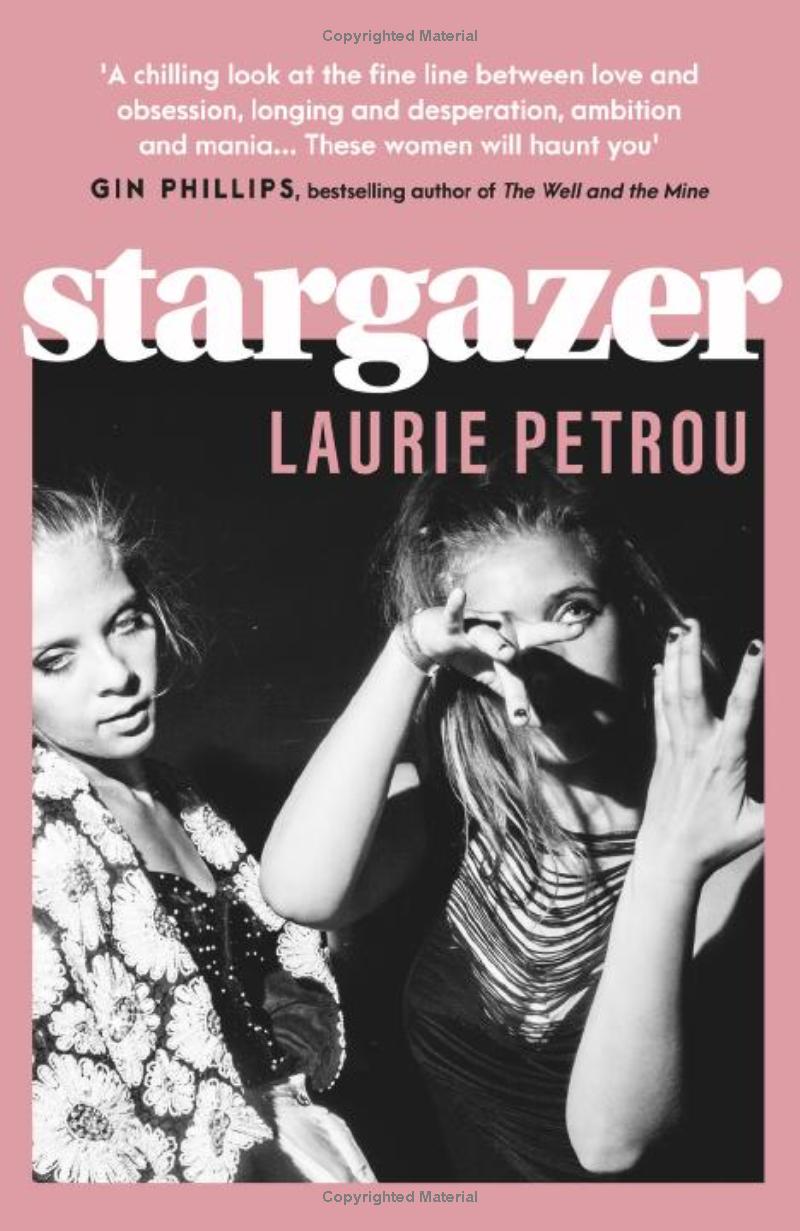 Purchase the book from Amazon.
Review:

The novel opens in the summer of 1995. It's freshman week at Rocky Barrens University. At a party for the new students, we meet Diana. It's clear from the outset that Diana is an outsider. She's an observer of the events happening around her, not a participant. She stands on the side lines sketching the partygoers and scanning the crowd for 'her girl' Aurelle. This opening chapter is breath-takingly beautiful. In a few pages, Petrou perfectly conveys the relationship between two young women with their whole lives stretched out in front of them, all of it an adventure just waiting to happen. It's a perfect description of what seems like a perfect friendship. It also leaves the reader in no doubt that something this perfect cannot last forever. From this stunning beginning, we go back five years to Toronto where thirteen-year-old Diana lives an isolated lonely life. Diana is spending the long summer months alone in her bedroom. She passes her days watching the comings and goings of her neighbours. Life in the Taylor household seems so much better than life in Diana's own home. For starters, the Taylors' house is always full of guests and what makes the Taylor home so special is the presence of the family matriarch, celebrated fashion designer Marianne. At first, it seems as if nothing can break the special bond shared by these two girls, but as they adapt to university life, it's clear they're on very different journeys. Aurelle, privileged and aimless, never quite finds her place in this new world. Diana, on the other hand, thrives. Her single-minded ambition, coupled with her talent, singles her out from the other Art students. And when she chooses Aurelle as the subject of a series of paintings, choosing her ambition over her friendship, nothing will ever quite be the same again. This is a beautifully written novel, rich in atmosphere with a compelling and complex central character. I absolutely loved 'Stargazer' and will be seeking out everything else this author has written.