True Crime Story
"'He's exciting, original, and not afraid to tear up the rule book...'"
Synopsis:
In the early hours of Saturday 17th December 2011, Zoe Nolan, a nineteen-year-old Manchester University student, walked out of a party taking place in the shared accommodation where she had been living for three months. She was never seen again.
Seven years after her disappearance, struggling writer, Evelyn Mitchell, finds herself drawn into the mystery.
Through interviews with Zoe's closest friends and family, she begins piecing together what really happened on that night in 2011. But where some versions of events overlap, aligning perfectly with one another, others stand out in stark contrast, giving rise to troubling inconsistencies.
Shaken by revelations of Zoe's secret life, and stalked by a figure from the shadows, Evelyn turns to crime writer Joseph Knox to help make sense of a case where everyone has something to hide. Zoe Nolan may be missing presumed dead, but her story is only just beginning.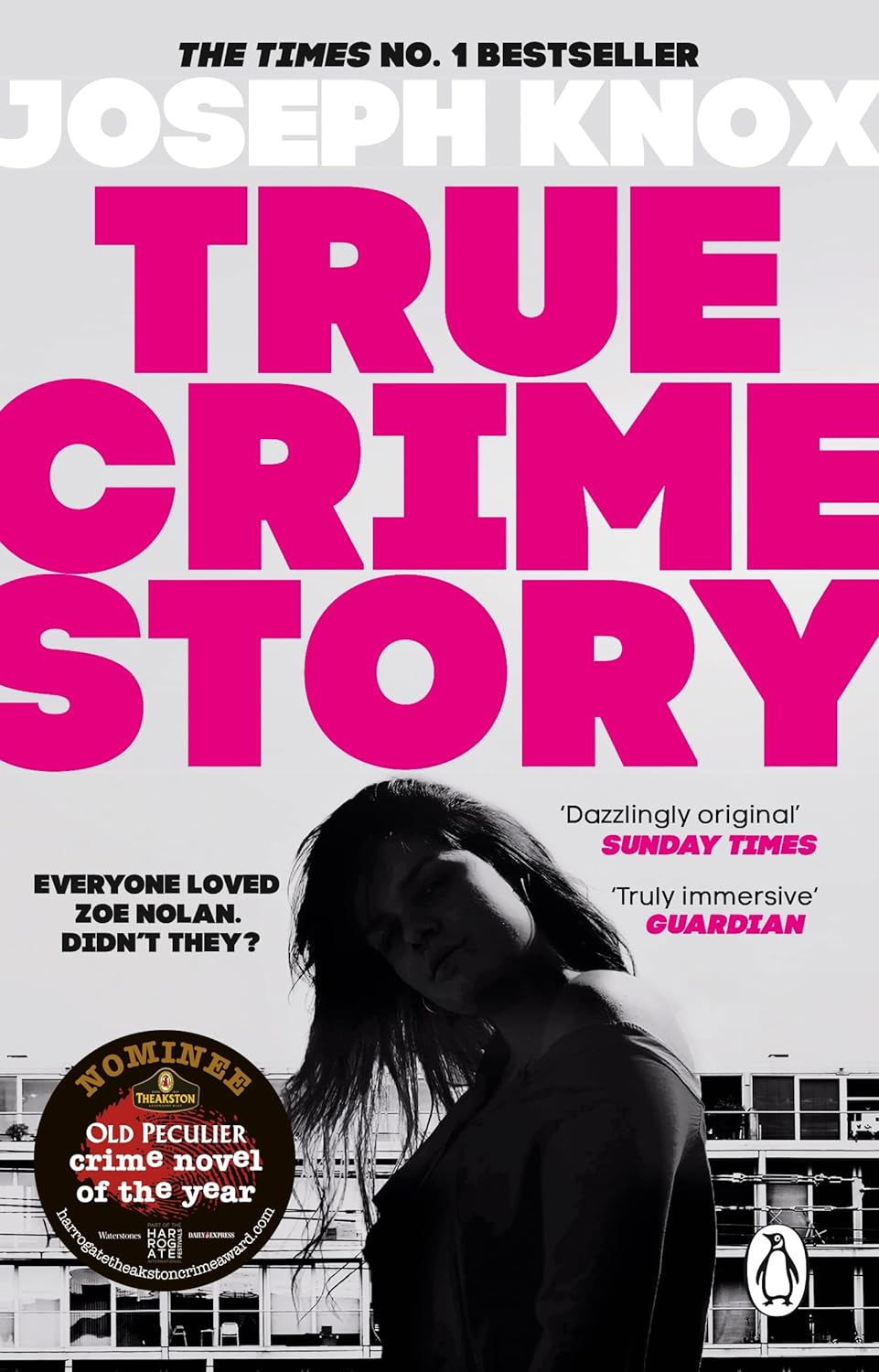 Purchase the book from Amazon.
Review:

Joseph Knox burst onto the crime fiction scene in 2017 with the stunning debut 'Sirens'. It was the first in a trilogy of novels featuring detective Aidan Waits and was an exceptional series of noir fiction with hints of Raymond Chandler. Knox wrote about a dark and seedy Manchester with perfection and hopes are high for his first standalone thriller. 'True Crime Story' is a meta-thriller with very little prose. We're told of the case of missing student, Zoe Nolan, through those who knew her best and the detectives leading the investigation through a series of interviews with a struggling writer, Evelyn Mitchell. She uses local writer, Joseph Knox, as a sounding board for the book she's putting together and it's these emails that are interspersed between the interviews. Confusing? No. Clever? Absolutely. Knox could have shot himself in the foot by putting himself into the story. It could have been over-the-top, self-aggrandising and supercilious, but at the hands of a man who works devilishly hard on his work, it's anything but. 'True Crime Story' is wonderfully executed, and there isn't a bit of back-slapping as Knox's own books are mentioned. At times, he paints himself in a negative light, showing how self-deprecating he really is. Through the process of reading interviews with no clarification from a narrator, the reader is unsure who is lying and who is telling the truth. There are very few facts to go on with this case and we have to be careful who we trust. It's interesting, as the story unfolds, watching how ordinary people's lives are dramatically changed by being plunged into a police investigation. It's almost like being behind the scenes of the criminal process. The contrast in style between the Aidan Waits trilogy and 'True Crime Story' is testament to Knox's strength as an author. He's exciting, original, and not afraid to to tear up the rule book and try something new. In just four novels, Joseph Knox has shown himself to be a major player in the British crime fiction industry. If Knox continues to produce books like this, he's going to have an amazing career ahead of him