The Recovery of Rose Gold
"'Wow! What a brilliant book! I couldn't put this one down.'"
Synopsis:
Rose Gold Watts believed she was sick for eighteen years. She thought she needed the feeding tube, the surgeries, the wheelchair…
Turns out her mum, Patty, is a really good liar.
After five years in prison, Patty Watts is finally free. All she wants is to put old grievances behind her, reconcile with her daughter and care for her new infant grandson. When Rose Gold agrees to have Patty move in, it seems their relationship is truly on the mend.
But Rose Gold knows her mother. Patty won't rest until she has her daughter back under her thumb. Which is I convenient because Rose Gold wants to be free of Patty. Forever.
Only one Watts will get what she wants. Will it be Patty or Rose Gold?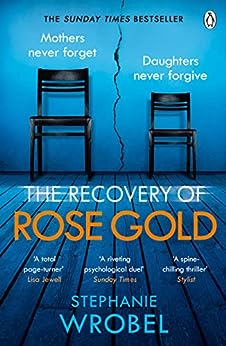 Purchase the book from Amazon.
Review:

Wow! What a brilliant book! I couldn't put this one down. The story focuses on the relationship between Rose Gold and her mother, Patty. What follows is a breath-taking psychological battle between mother and daughter. We know that Patty is damaged – through gradual flashbacks we get insights into her troubled childhood and start to understand what drove her to poison her own child. Clearly, Rose Gold is damaged too. The one person she loved more than anything else in the world had spent her whole life hurting her. Yet why, after everything Patty has done, is Rose Gold so willing to forgive and forget? Or are there other, darker reasons she lets her mother move in with her? As the novel switches between Patty and Rose Gold's perspectives, the reader is left not knowing which character to trust. Or which one of them will survive the inevitable clash between these two complex women. 'The Recovery of Rose Gold' is a stunning exploration of love, revenge, and the devastating impact of childhood trauma. It's dark, disturbing and utterly gripping.