The Midnight Hour
""There's something comfortable and warm about this series, but the crimes are dark and disturbing..." "
Synopsis:
Brighton, 1965. When theatrical impresario Bert Billington is found dead in his retirement home, no one suspects foul play. But when a post-mortem reveals that he was poisoned, suspicion falls on his wife, eccentric ex-Music Hall star Verity Malone.
Frustrated by the police response to Bert's death and determined to prove her innocence, Verity calls in private detective duo Emma Holmes and Sam Collins. This is their first real case, but as luck would have it, they have a friend on the inside. Max Mephisto is filming a remake of Dracula, starring Seth Billington, Bert's son. But when they question Max, they feel he isn't telling them the whole story.
Emma and Sam must vie with the police to untangle the case and bring the killer to justice. They're sure the answers lie in Bert's dark past and in the glamorous, occasionally deadly, days of Music Hall. But the closer they get to the truth, the more danger they find themselves in.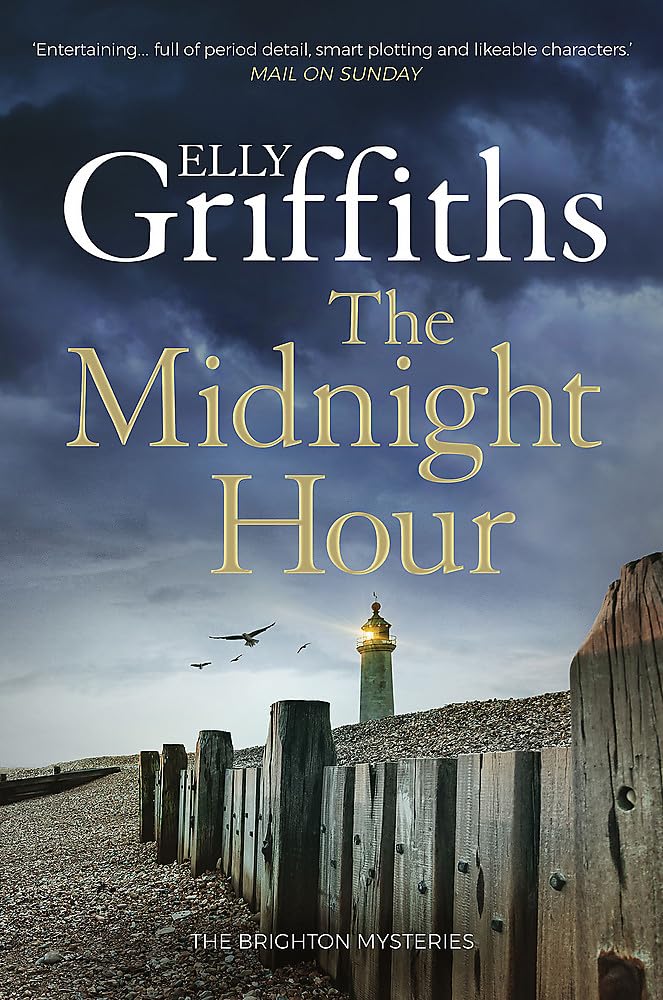 Purchase the book from Amazon.
Review:

I am huge fan of the Brighton Mysteries series, and it has been a joy to watch them evolve over the six books from a double act of a detective and former magician solving crimes to a private detective agency at the heart of the series. 'The Midnight Hour' is a fast-paced read and one that hooks from the first page as a retired theatre impresario is found dead in his armchair. An innocuous opening, I agree, but this is a book by Elly Griffiths, and her choice of language, her eloquent descriptive narrative tells us there is definitely more than meets the eye. Straight away, we're gripped by the strange behaviour of his wife, Verity, a former actress who may or may not be playing the role of her life. As the case unfolds and secrets are revealed, more suspects come to life and Griffiths obviously enjoys dropping red herrings throughout to tease the reader. She knows what the crime fiction audience wants and expects, and she more than delivers. It's no surprise that all of her novels shoot straight into the Sunday Times bestseller lists. She is one of Britain's favourite authors. She's certainly mine. The pairing of Holmes and Collins is an interesting one, but Collins doesn't get much page time. She still needs to earn a living as a journalist and is soon whisked away to investigate the infamous Moors murders in Manchester, leaving Holmes and WDC Meg Connolly to team up. Their road trip north is a joy to read, and I'd love to see Connolly quit the force and join Emma and Sam's detective agency. They'd make a formidable team. The Brighton Mysteries series always puts me in mind of Agatha Christie at her best. There's something comfortable and warm about this series, but the crimes are dark and disturbing making for an interesting and brilliant combination. There aren't many British crime fiction series about private detectives anymore, a great shame, but Griffiths has shown the genre still has an audience. I'm hoping for many more cases for Holmes and Collins. If you're a fan of nostalgia in your fiction, this is a series for you. There are pop culture references and nods to real life events that given an extra layer of realism to the characters and the series. Griffiths is one of the hardest working writers in crime fiction, but she makes it seem so effortless.