The Dark
"The tension in this book is painfully palpable and the story moves at a cracking pace."
Synopsis:
When a baby is snatched from its pram and cast into the river Thames, off-duty police officer, Lacey Flint is there to prevent disaster.
DCI Mark Joesbury has been expecting this. Monitoring a complex network of 'dark web' sites, Joesbury and his team have spotted a new terrorist threat from the extremist, women-hating group known as 'incels' or 'involuntary celibates'. Joesbury's team are trying to infiltrate the ring of power at its core, but the dark web is built for anonymity, and the incel army is vast.
Pressure mounts when the team learn the snatched baby incident was just the first in a series of violent attacks designed to terrorise women. Worse, the leaders of the movement seem to have singled out Lacey as the embodiment of everything they hate, placing her in acute danger.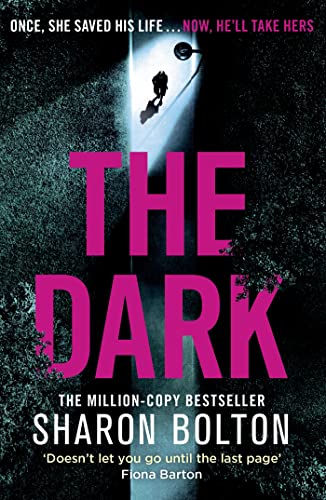 Purchase the book from Amazon.
Review:

I am a huge Sharon Bolton fan. Her novels are all complete page-turners, gripping from cover to cover. 'The Dark' is a return to Bolton's bestselling Lacey Flint police series, and the first one since 2014. It's been a long wait, but it was worth it. Fans of Lacey Flint will already know of the police officer's shady past (that's putting it mildly) and the opening of the fifth book in the series gives us a snapshot of Lacey. After that shocking prologue, most writers would ease us into the story gently, but Bolton is not most writers, and she goes for the jugular with a terrifying first chapter which sees a baby snatched from its pram and hurtled into the fast-flowing river Thames. The scene is now set for a series of shocking attacks on women around London. There's a particularly well-written scene involving a crane high up above the city in a gale-force wind where, if you're afraid of heights, as I am, you may want to read it holding someone's hand. The attention to detail Bolton puts into her work makes you feel as if you are right there among the action. My heart was in my mouth at several times throughout this book. 'The Dark' deals with incels; a group of men who seek a return to times when women weren't allowed to vote and their existence seemed to be to support the man; stay at home and have children, cook and clean, not have a job, and rely on the men for everything. Archaic thinking, definitely, but this is not fiction, these people do exist, and attacks are on the increase. Sharon Bolton has highlighted the vulnerability of women and how very little can be done to prosecute such men without them actually breaking the law. Yet, to the victims, the threat is incredibly real and frightening and it's this menace they wish to evoke. It's shocking to think there are men out there in the world who think this is acceptable, and the fear women feel simply walking the streets in twenty-first century London. On one level, this book is a work of fiction, entertainment to be enjoyed, but it's also a reminder that although we think we live in a democratic society, there are those who wish to believe otherwise. The tension in this book is painfully palpable and the story moves at a cracking pace. It's good to have Lacey Flint, and her many issues, back, and I hope we don't have to wait another eight years for book six.