The Crooked Shore
""A masterful story filled with intrigue, dark humour and a clever plot.""
Synopsis:
DCI Hannah Scarlett is an acknowledged expert in solving cold cases, but she is struggling under the weight of bureaucracy when Ramona Smith's disappearance from Bowness more than twenty years ago crosses her desk.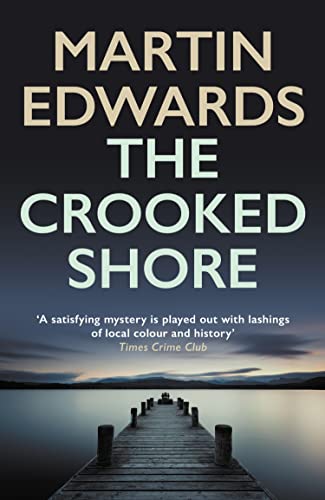 Purchase the book from Amazon.
Review:

This is one of those tricky reviews where I have to be careful what I write so as not to let out any spoilers! There are two strands here that propel this case. Hannah's search for Ramona Smith's body and the trials and tribulations of Kingsley Melton. With a name like that one would expect a grand man, unfortunately Kingsley's persona does not match his name. He has the propensity of being in the wrong place at the wrong time and has a reputation locally for being a bit of a jinx. Kingsley's obsession with Tory, a vivacious lady of means appears to be his oasis in a desert of disaster. But is she such an oasis? Although I enjoyed this strand, I did feel down the road, that it slightly diverted away from the main investigation and the two leads. The Ramona Smith investigation is cleverly revealed. Throughout, there is tension between Hannah and Daniel with his arrival from his US book tour. To begin with it looks touch and go whether they will remain romantically involved. I read 'The Crooked Shore' in two days. I really couldn't put this down and was intrigued from Edwards' masterful opening, right up to the finish when, with Christie-esque finesse, Edwards ties up all the loose ends. Edwards' books are wonderfully readable and here is no exception. 'The Crooked Shore' has that – 'just one more chapter…' readability about it. A masterful story filled with intrigue, dark humour and a clever plot.