The Corpse with the Crystal Skull
"definitely a good holiday read"
Synopsis:
Cait Morgan, Professor of Criminal Psychology, and amateur sleuth, is on holiday with husband Bud in Jamaica to celebrate her fiftieth birthday. At the end of their holiday they are joined by old friends and former colleagues of Bud. They are staying at the estate of eccentric art collector, Freddie Burkinshaw. Within the estate is the historic tower built by renowned pirate Henry Morgan. Freddie has this as a hideaway. When Freddie is discovered dead locked inside this building the local police assume it is suicide but Cait feels something is not right with this assumption, as it does not fit with Freddie's upbeat behaviour at the party the previous evening. As usual when she has a bee in her bonnet she does not let go and proceeds with questioning all of Freddie's contacts in a not too subtle manner.
When another body is discovered on the beach, Cait discovers that there is an ulterior motive in Bud bringing her and their old friends to this island, The three men, old colleagues, are investigating some criminal activity on behalf of the Canadian and British governments. Needless to say she is not best pleased.
Cait uses her experience and analytical brain to solve the murder and reveals all in the classic way-bringing all involved together and pointing the finger in the image of Hercule Poirot.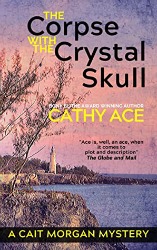 Purchase the book from Amazon.
Review:

This is the ninth book in the series and Cait Morgan is growing older and more self-aware as time goes on. The book is very much in the cosy crime category with nods to Agatha Christie. A locked room scenario is found in several earlier books in the series and it works well. Along with Cait we have puzzles to solve and lines of investigation to follow. If you're good you come to the same conclusion as she does! I detected a different approach in Cait in this book: she still doggedly follows her line of thought without thinking of the consequences, but she is becoming more aware of other people's point of view! This is definitely a good holiday read (virtual or otherwise) and even better if you are on some idyllic Caribbean Island, wishful thinking or not.