Take Your Breath Away
"Barclay is again at the top of his game with 'Take Your Breath Away'"
Synopsis:
One weekend, while Andrew Mason was on a fishing trip, his wife, Brie, vanished without a trace. Most people assumed Andy had got away with murder, but the police couldn't build a strong case against him. For a while, Andy hit rock bottom – he drank too much, was abandoned by his friends, nearly lost his business and became a pariah in the place he had once called home.
Six years later, Andy has put his life back together. He's sold the house he shared with Brie and moved away for a fresh start. When he hears his old house has been bulldozed and a new house built in its place, he's not bothered. He's settled with a new partner, Jayne, and life is good.
But Andy's peaceful world is about to shatter. One day, a woman shows up at his old address, screaming, 'Where's my house? What's happened to my house?' And then, just as suddenly as she appeared, the woman – who bears a striking resemblance to Brie – is gone. The police are notified and old questions – and dark suspicions – resurface.
Could Brie really be alive after all these years? If so, where has she been? It soon becomes clear that Andy's future, and the lives of those closest to him, depend on discovering what the hell is going on. The trick will be whether he can stay alive long enough to unearth the answers.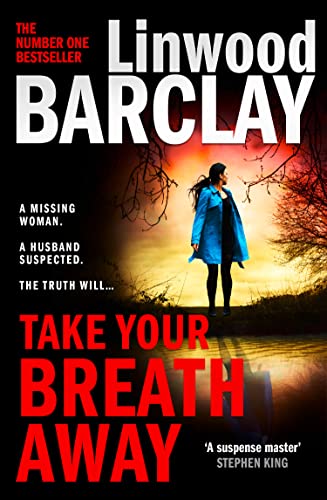 Purchase the book from Amazon.
Review:

Andrew is adamant he had nothing to do with Brie's disappearance, despite there being a few problems in their marriage. But Brie's sister, Issy, is adamant that Andrew is guilty of killing Brie and is sure he has got away with murder. As the story unfolds, more suspects are introduced to the plot with Barclay skillfully giving everyone either a motive or opportunity, that you will have you guessing. Not only will you try to figure out who is responsible, you will also be wondering where Brie has been for the last 6 years. Barclay is again at the top of his game with 'Take Your Breath Away'. It is an excellent thriller that will keep you turning the pages. The characters all have their flaws making them believable and relatable. And the plot could just happen. It was a challenge to put this book down once started - a great read that comes highly recommended.