No Place To Run
""...Edwards' novels should be at the top of everyone's favourite crime fiction reads." "
Synopsis:
When British twenty somethings Ruth and Adam are offered the chance to spend the summer housesitting in New York, they can't say no. Young, in love and on the cusp of professional success, they feel as if luck is finally on their side.
So the moment that Eden turns up on the doorstep, drenched from a summer storm, it seems only right to share a bit of that good fortune. Beautiful and charismatic, Eden claims to be a friend of the homeowners, who told her she could stay whenever she was in New York.
They know you're not supposed to talk to strangers – let alone invite them into your home – but after all, Eden's only a stranger until they get to know her. As suspicions creep in that Eden may not be who she claims to be, they begin to wonder if they've made a terrible mistake.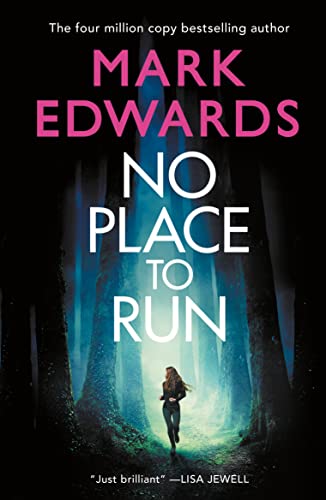 Purchase the book from Amazon.
Review:

On the face of it, 'The House Guest' sounds like a run of the mill domestic noir story about a random stranger coming between two people in love to split them apart. However, this is a novel by Mark Edwards. He doesn't do run of the mill. 'The House Guest' is a pacey, psychological thriller about two regular, hard-working people who are plunged into a nightmare that is as dark as they come. What I love about the work of Mark Edwards is that you don't know what you're going to get from them. What you're guaranteed is a thrilling, unputdownable story that will leave you breathless. Edwards is a terrific writer who can create genuine characters and make the reader feel like they've known them all their life in the space of a few paragraphs. He's a master at characterisation which is why he's sold more than three million copies of his novels. He's in the same league as Clare Mackintosh and Belinda Bauer when it comes to finding the extraordinary in the ordinary. The main three characters of Ruth, Adam and Eden are richly drawn and individual, each with their own insecurities and doubts. They're human and very real. Without this depth of character, a good story can be lost if you don't care about the people you're reading, and Edwards makes sure you care from page one. However, the standout character for me is reclusive journalist Wanda Brooks. Living in isolation surrounded by an arsenal of weapons, Wanda has dedicated her life to searching for the truth and living in fear of the people she's hunting. She's strong, she's intelligent, but she's frightened. The tension of the story cranks up when she appears. There are some genuinely spooky moments in 'The House Guest', and there's a well described scene with a cauterising pen that will cause you to wince! 'The House Guest' is a dark and exciting read and Mark Edwards' novels should be at the top of everyone's favourite crime fiction reads.