Find You First
"A terrific read that will not let go until the final page"
Synopsis:
Tech millionaire Miles Cookson has more money than he can ever spend, and everything he could dream of - except time. He has recently been diagnosed with a terminal illness, and there is a fifty percent chance that it can be passed on to the next generation. For Miles, this means taking a long hard look at his past…
Two decades ago, a young, struggling Miles was a sperm donor. Somewhere out there, he has kids - nine of them. And they might be about to inherit both the good and the bad from him - maybe his fortune, or maybe something much worse.
As Miles begins to search for the children he's never known, aspiring film documentarian Chloe Swanson embarks on a quest to find her biological father, armed with the knowledge that twenty-two years ago, her mother used a New York sperm bank to become pregnant.
When Miles and Chloe eventually connect, their excitement at finding each other is overshadowed by a series of mysterious and terrifying events. One by one, Miles' other potential heirs are vanishing - every trace of them wiped, like they never existed at all.
Who is the vicious killer - another heir methodically erasing rivals? Or is something even more sinister going on? It's a deadly race against time.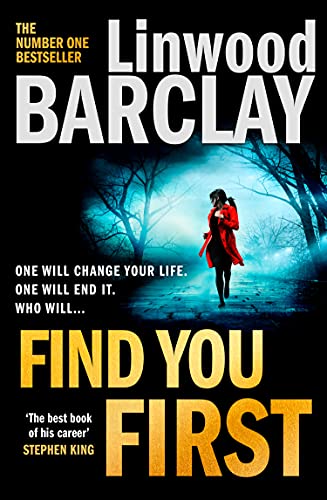 Purchase the book from Amazon.
Review:

Linwood Barclay has always been able to write a thriller that has me hooked from the first page and keeps the interest building throughout. As with previous novels, Barclay is amazing at misdirection and red herrings to keep you guessing, and 'Find You First' is no exception. This book is all about greed, ego, morality, murder, deception and depravity. How far will someone go to get what they want? With plenty of murders and plenty of suspects, Barclay will keep you guessing until the end. Another gripping read from a master of his genre, constantly leading you down the wrong path. A terrific read that will not let go until the final page.