Edge of the Grave
"...there is a wonderful rhythm to Morrison's writing."
Synopsis:
Glasgow, 1932. When the son-in-law of one of the city's wealthiest shipbuilders is found floating in the River Clyde with his throat cut, it falls to Inspector Jimmy Dreghorn to lead the murder case – despite sharing a troubled history with the victim's widow, Isla Lockhart.
From the flying fists and flashing blades of Glasgow's gangland underworld, to the backstabbing upper echelons of government and big business, Dreghorn and his partner 'Bonnie' Archie McDaid will have to dig deep into Glasgow society to find out who wanted the man dead and why.
All the while, a sadistic murderer stalks the post-war city leaving a trail of dead bodies in their wake. As the case deepens, will Dreghorn find the killer – or lose his own life in the process?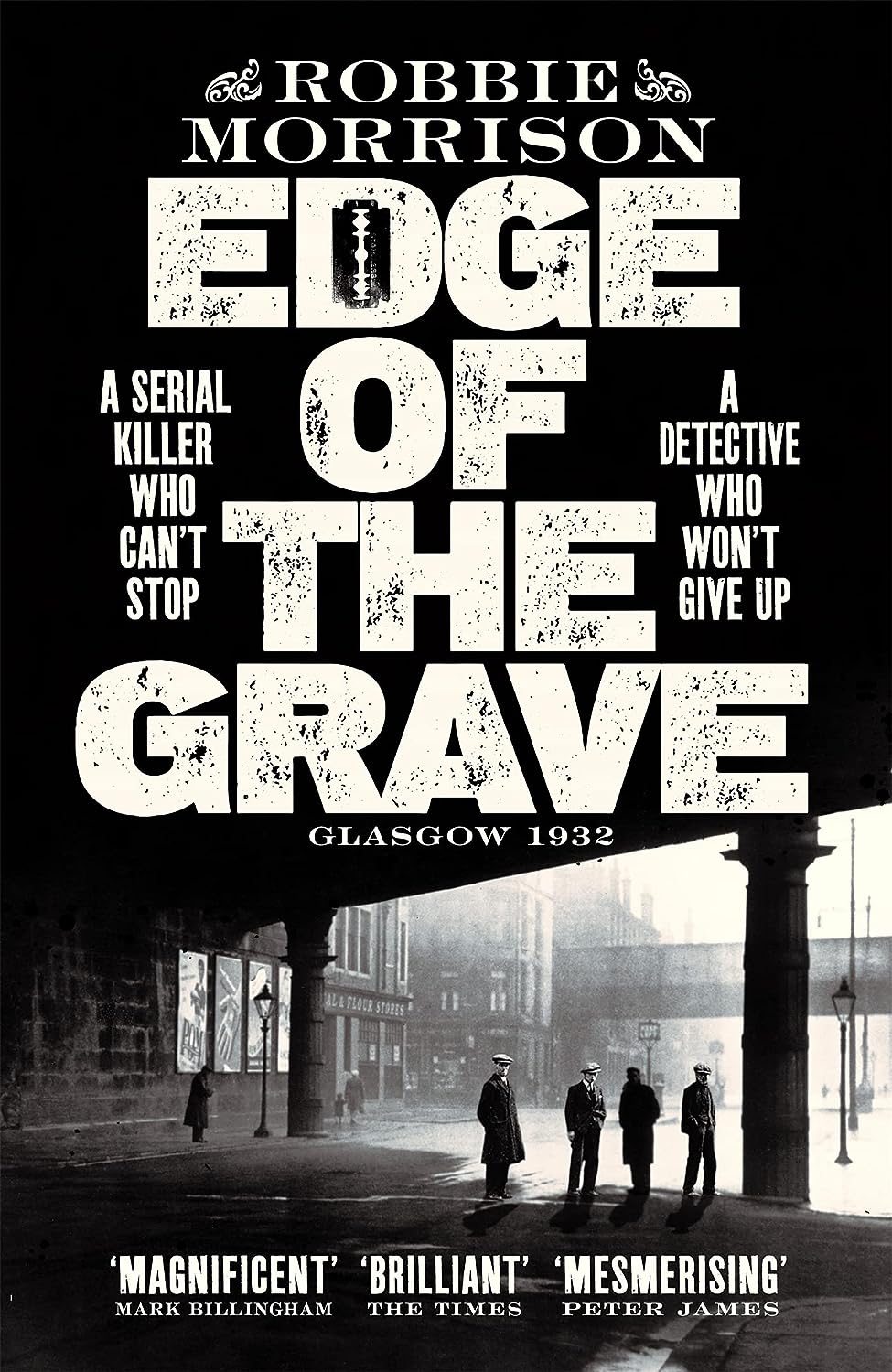 Purchase the book from Amazon.
Review:

There is a wonderful rhythm to Morrison's writing. Morrison really brought home to me the sights, sounds and smells of Glasgow 1932. There is an energy to his writing that thrums away like a Glaswegian tattoo (certainly not McDaid's terrible bagpipe playing), that lifted Morrisons story, added a dimension to it and gave it body like a fine whiskey. I loved the characterisation of the wide and varied cast, in particular Dreghorn and the giant partner known as 'Bonnie' Archie McDaid. Both leapt off the page with their humour and determination. 'Edge of the Grave' is indeed a fine debut that will transport you to a grim time of unemployment, class distinction and many still haunted by their time at the front of the Great War. These poor guys had PTSD which wasn't even recognised back then. They were simply labelled as mad. Morrison has certainly done his homework and it really does bring this particular timeline to life. There were times I felt as though some information had been crammed into the story which didn't really add anything, except to inhibit the pace of his gripping story. Although I fathomed the killer as I neared the end, Morrison's mesmeric writing and the tortured soul of Dreghorn kept me deeply invested in this book. 'Edge of the Grave' is a highly evocative novel with a strong sense of place and Morrison brings to dark life this time period in an engaging and mesmerising way. As Morrison grows with each novel, he will indeed be a force to be reckoned with. The fact he won the Debut Award 2021 at Bloody Scotland shows something wonderful in development. I look forward to keeping Dreghorn and McDaid company in their next case. Highly recommended and worthy of the award it won.