Disappearance at Oare
""...I would recommend it to a reader who loves their cosy crime." "
Synopsis:
Pearl Nolan, restaurateur and private detective in Whitstable, Kent, is asked by a woman called Christina Scott to investigate the disappearance of her husband Steven seven years ago. At the time, the police investigated and considered that he had either disappeared for reasons of his own or had committed suicide, as a supposed suicide note had been left in his car, which was abandoned on a slipway in the village of Oare. But Christine was pregnant at the time, and is sure Steven would not have done any of those.
So Pearl begins investigating. After questioning Alan and Linda, Steven's parents, Pearl discovers that they have found God, through a small church founded by the Revd Russell Cameron which Steven was investigating for some reason. Why was Steven so interested in it? Her investigations also takes in to a former children's home, a woman doing up a small boat, a beach party, the owner of a building to be used as a picture gallery, and the Isle of Sheppey. The love of Pearl's life, DCI Mike McGuire, has returned from a posting in London, and he helps her, in an unofficial way, in her investigations. He also supplies an intriguing will-they-won't-they love dimension to the story.
And through it all runs the town of Whitstable and its surrounding towns and villages. I am no expert on this part of Kent, but the places described are no doubt real and can be visited.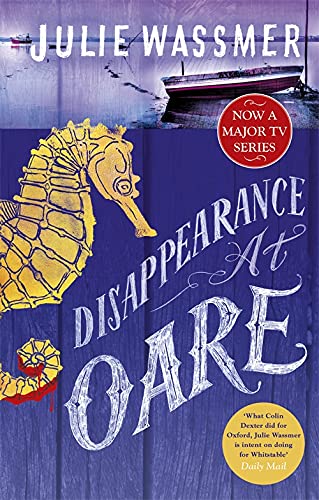 Purchase the book from Amazon.
Review:

This is the fourth book in the Pearl Nolan series, and the first one I have read. The author, Julie Wassmer, writes for TV and lives in Whitstable. This is not a whodunit, but more of a 'was anything done in the first place?' story. This makes the mystery intriguing and offbeat. It is no crime to disappear, nor is it a crime to leave a false suicide note, so the police were correct in being wary during the original investigation. Pearl herself cannot make up her mind to begin with. The clues are all there, and one in particular is a beauty. I never noticed it, but when it was explained at the end of the book I immediately saw how obvious it was. Julie Wassmer is obviously in love with Whitstable and the area surrounding it, and it shows on every page. One minor quibble I have is that, because of this, some pages read like a travel guide to the town, and add little to the plot. However, it is an enjoyable read and I would recommend it to a reader who loves their cosy crime.