Bryant & May – Oranges and Lemons
""'Oranges and Lemons' is...almost continually laugh-out-loud hilarious. " "
Synopsis:
When we left our heroes last time, John May had just taken a bullet, Arthur Bryant had gone AWOL and the Peculiar Crime Unit had been axed in the shocking denouement to 'The Lonely Hour'. What can save the octogenarian sleuths now but a nursery rhyme that's even older than they are, synonymous with the church bells of the ancient city? First they toll for a rare bookshop in Bloomsbury that is torched to the ground, leaving the aroma of citrus in the air and a suicidal proprietor. Then, the controversial Speaker of the House of Commons steps out in the street facing St Clement Dane's church and is speared by a crate of oranges and lemons as a lorry appears to shed its load on top of him. Is his near-death experience a bizarre accident or fiendish design? Needing to keep the press out and the Speaker's secrets schtum, the Home Office – in the hipster form of Timothy Floris – decree there is only one outfit with the necessary unorthodox skills to find out. Summoned by bells, May rises from his hospital bed, Bryant emerges from a religious retreat, Raymond Land comes off gardening leave and the PCU HQ is saved from becoming an artisanal coffee shop.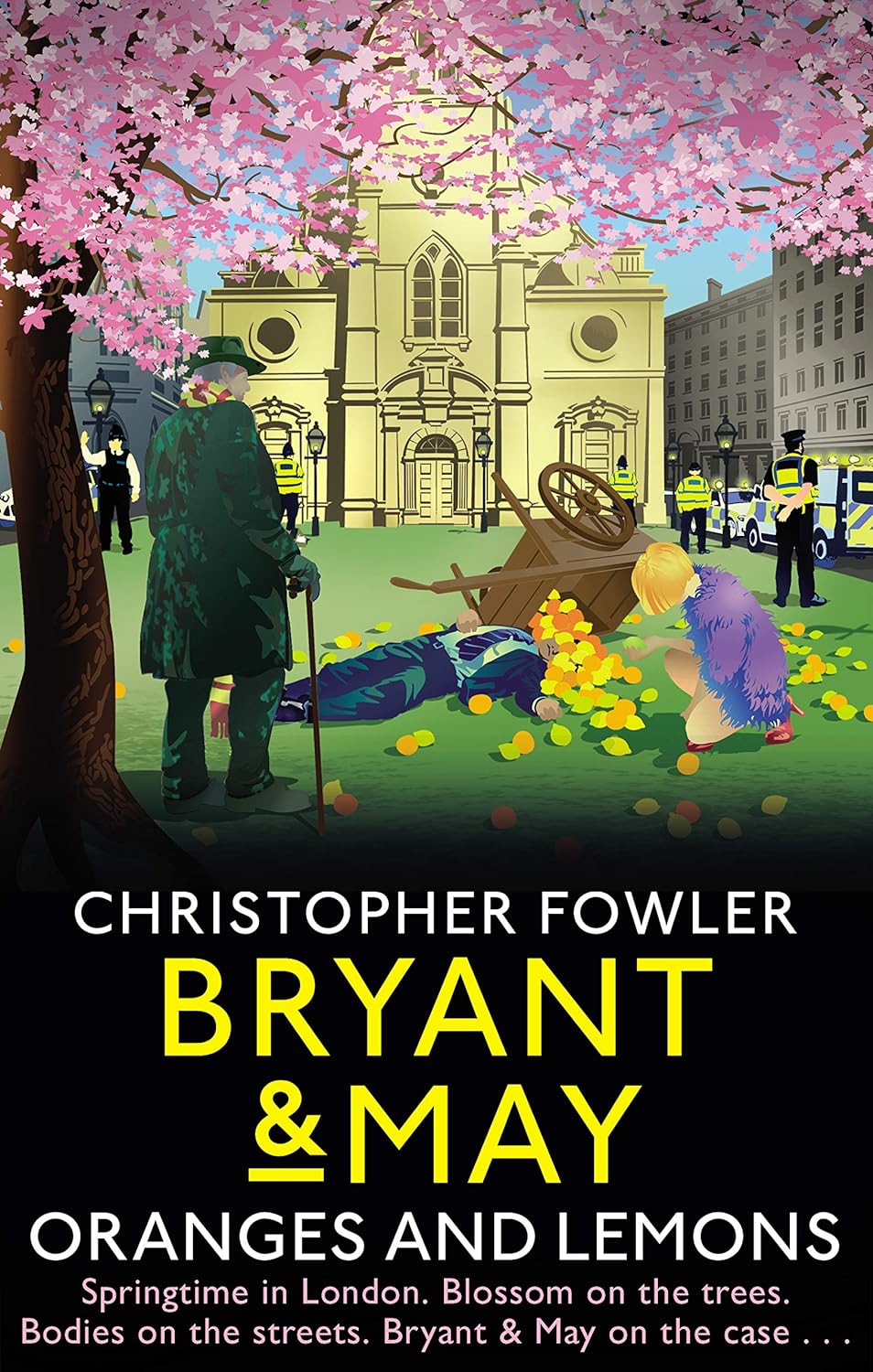 Purchase the book from Amazon.
Review:

'The Lonely Hour' was one of the darkest Bryant and May mysteries, infused with a sense of dread that London itself was changing beyond all recognition, becoming a steel and glass outer shell of vacant oligarch-owned luxury flats atop a nightmarish, teeming underworld of the dispossessed. Now that we find ourselves in a dystopian future nobody predicted, 'Oranges and Lemons' is, by contrast, almost continually laugh-out-loud hilarious. Like his heroes, Fowler draws deep from adversity, and the case he has conjured out of this portentous rhyme arrives with breathtaking timing. Having outwitted death and their detractors, Bryant and May now face-off their most dangerous, shape-shifting opponent yet – one who appears to have the power to act beyond the limitations of any kind of Earthly law. Fresh help comes to the PCU in the form of the luxuriantly bearded Floris and still younger, work experience protégée Sidney Hargreaves, who is proud of her gender-fluid name and seems to have a bead on Bryant. The constant fun of this wonderful and pertinent novel is how Fowler squares up his two extraordinary elderly gentlemen against the thrusting woke world, constantly finding sources of reinvention and rediscovery from the fabric of the city he loves so well. (Old) boys keep ringing!