All Fall Down
"Helen Grace is one of the most well-rounded protagonists in British thriller writing. "
Synopsis:
You have one hour to live. Those are the only words on the phone call. Then, they hang up. Surely, it's a prank. Maybe it's a mistake or even a wrong number. Anything but the chilling truth … that someone is watching, waiting, working to take your life in one hour.
But why? The job of finding out falls to DI Helen Grace: a woman with a track record in hunting killers. However, this is a case where the killer seems to always be one step ahead of the police and the victims.
With no motive, no leads, no clues – nothing but pure fear, an hour can last a lifetime.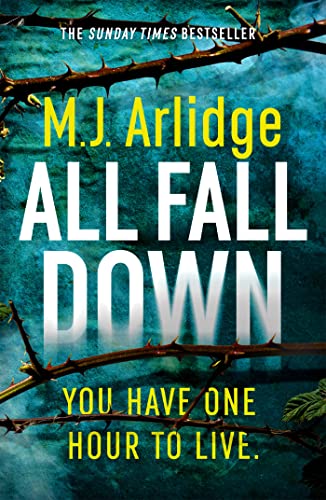 Purchase the book from Amazon.
Review:

All Fall Down' is the ninth novel in M J Arlidge's crime fiction series featuring the brilliant, but incredibly complex DI Helen Grace; a woman it is very difficult to get close to, who refuses to expose her feelings and emotions. However, on paper that makes her sound cold and difficult to like, but she's anything but. Helen Grace is one of the most well-rounded protagonists in British thriller writing. In 'All Fall Down', she's trying to make sense of her personal life as she is on the cusp of a new romance, but there is something not quite right. In typical Grace style, she thinks too much, analyses too much and potentially jeopardises her happiness before it has even begun. Arlidge writes Grace brilliantly. What the character herself sees as individual flaws are, in fact, character traits we all possess. This is what makes her so relatable, and I have enjoyed all previous eight novels in the series, particularly because of Helen. I'd read about her weekly trip to the supermarket. The crime in 'All Fall Down' is dark and as the layers are peeled away, it gets darker and more disturbing. The story and the relationships between the characters are a joy to read and the story moves on a cracking pace as the plot thickens. However, the reveal of the identity of the killer leaves the reader with more questions than answers and there's a set piece in the finale that requires you to suspend your disbelief. I confess to rolling my eyes a couple of times. Helen Grace is a thrill-seeker. She purposely puts herself in harms way as if she's punishing herself for wanting to live a normal life. It's this vulnerability the reader enjoys and why these books have sold in their millions. However, she's not a superhero, but she was in danger of becoming one here. The final chapter sets up a potential foe for a tenth book and I hope Arlidge takes Helen back to basics and puts some fear into her life, rather than have her tearing around Southampton on her bike like the Black Widow in the Avengers films.