A Scandal in Belgravia
".a subtle novel, written with consideration by a consummate writer..."
Synopsis:
A Scandal In Belgravia' is a story of murder; it is also a penetrating analysis of a decaying social class and a society in transition. It is the personal, deeply moving story of two men, Peter Proctor, recently retired as a senior British cabinet minister, and Timothy Wycliffe, a young aristocrat who was bludgeoned to death more than thirty years ago.
It was an unusual friendship – two young men on the lowest rung of the Foreign Office in the early 1950s. As Proctor writes his memoirs, the tragic death of Wycliffe haunts him. Although the killer was named, he was never caught however, there are still unsolved and unexplained questions about Wycliffe's death. Peter slowly searches for answers, he finds the answer that echoes the staid attitudes of that time.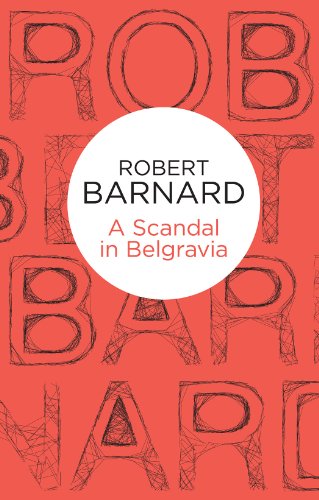 Purchase the book from Amazon.
Review:

Published in 1991, this crime novel of forty years ago is something of a milestone. As Britain came out of the Thatcher era which brought in Section 28 forbidding the teaching of LGBT (as it was known then) lifestyles in schools. Here Barnard documents the wildly gay lifestyle of Timothy Wycliffe. Despite homosexuality being illegal in the 1950s and was to be so until its decriminalisation in 1967 (the Wolfenden Report being published in '57), Barnard writes when this lifestyle choice was still a huge taboo. There is nothing 'under the counter' with Tim Wycliffe who appears not to worry who knows about his sexuality. According to his friend, Proctor it was an open secret, but one people didn't mention, including himself. There is nothing of a sexual nature in the friendship between Proctor and Wycliffe, they purely got along, although Proctor is a little concerned about Tim's penchant for the rough and ready guys he picks up who are a little too handy with their fists. This is the basis for the explanation as to who killed his friend that night back in 1950. This is a remarkable psychological novel, giving insight of the ways and means of a gay man during those difficult times. Barnard also shows how a man being homosexual would be a terrible secret for family members when it was illegal and carried a prison sentence. This is twinned with Proctor's delicate enquiries in to Wycliffe's death which brings up more than he considered. It really is a matter of bringing up the bodies and secrets that have lain hidden for so many decades. This is a subtle novel, written with consideration by a consummate writer, peppered with LGBT history along with Proctor's own as a young man. Thankfully, as a nation, we have certainly made huge progress since those dark days. Definitely worth a read as are many of Barnard's books.