A Line to Kill
""The ingredients are all there for this being a classic of the genre..." "
Synopsis:
There has never been a murder on the tiny island of Alderney. But as writers gather for a brand new literary festival, a killer lies in wait. An island full of secrets is about to become an island full of suspects.
Private Investigator Daniel Hawthorne and the writer, Anthony Horowitz, have been invited to the festival to talk about their new book. Very soon they discover that dark forces are at work.
Alderney is in turmoil over a planned power line that will cut through it, desecrating a war cemetery and turning neighbour against neighbour. And the visiting authors seem to be harbouring any number of unpleasant secrets.
When the festival's wealthy sponsor is found brutally murdered, Alderney goes into lockdown and Hawthorne knows he doesn't have to look too far for suspects. There is no escape. The killer is still on the island. And there's about to be a second death.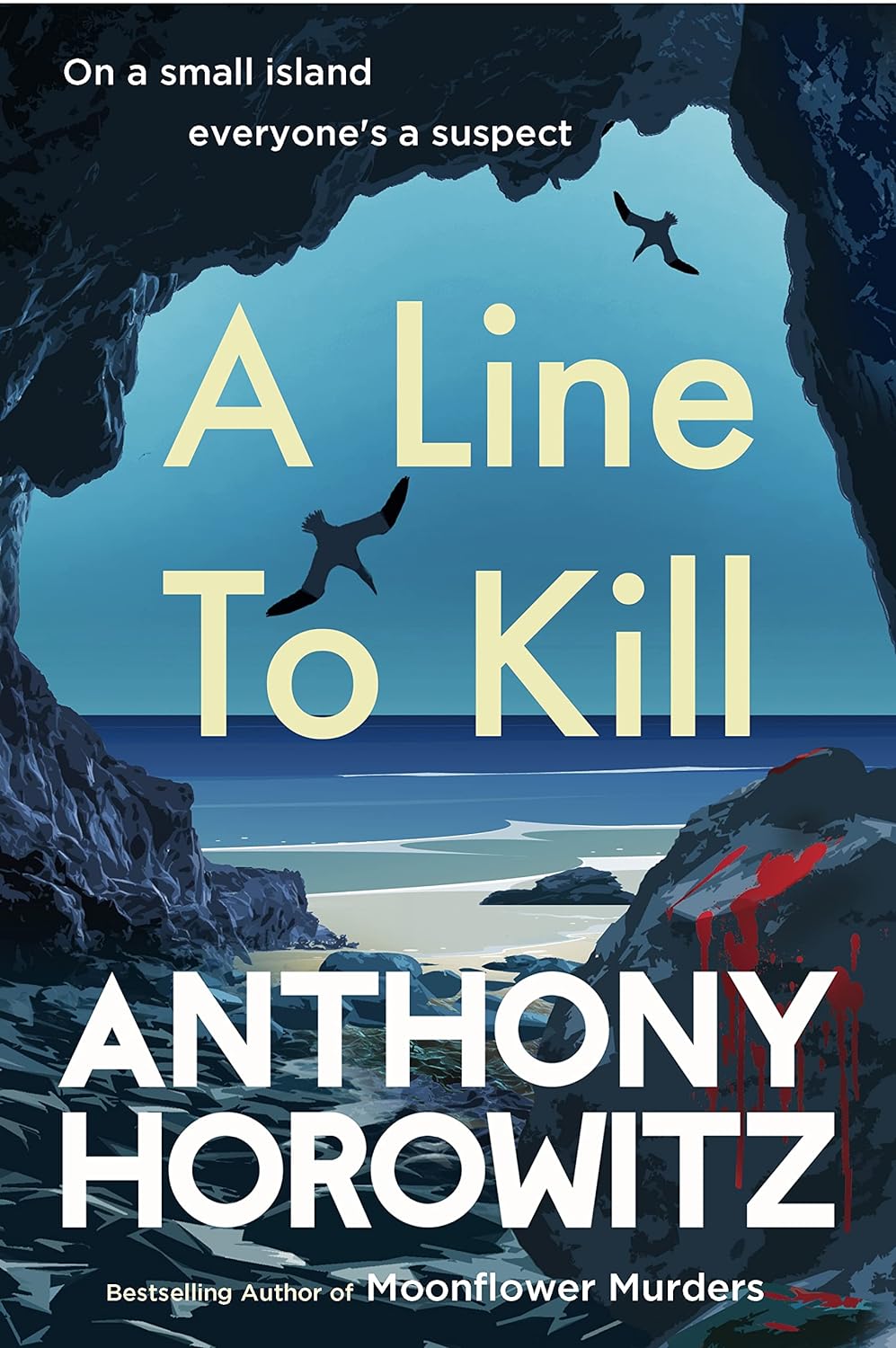 Purchase the book from Amazon.
Review:

If it wasn't genetically possibly, I'd swear Anthony Horowitz the love child of Arthur Conan Doyle and Agatha Christie. He has successfully managed to channel both celebrated authors and use elements that made Holmes and Poirot so successful and mash them together to create the metaphysical Hawthorn series. 'A Line to Kill' is the third book in the series and although it isn't necessary to read the previous two first, I urge you to begin at the beginning. This is the twenty-first century version of the golden age of crime fiction. Horowitz places himself in the thick of the action as he narrates the investigations. Hawthorn, a disgraced detective, has approached the writer of Foyle's War to write about his life's work. Reluctantly, he has done so, and the third novel takes place as the first novel is about to be launched. Horowitz, a genuine fan of the works of Conan Doyle and Christie, is obviously having fun with Hawthorne and his readers. Hawthorne is Sherlock/Poirot as he sees clues and traits no-one else can, leaving Horowitz, as Watson/Hastings, to gape open-mouthed. Horowitz is also Christie as there is no love lost between him and his creation. In fact, as the books launch and Hawthorne is becoming more popular than the writer, there are hints Horowitz may begin to regret unleashing this monster, as Christie and Conan Doyle famously grew to dislike their famous creations. This is where Horowitz shows off his superior writing skills. He knows the works of the two celebrated crime writers inside and out and seems to effortlessly put them into play here. The tiny island of Alderney hosting a literary festival at a time when the residents are torn apart by upcoming change, is straight from the pages of Christie and there are hints of 'Evil Under the Sun' here. Every character has a reason to kill off the wealthy and despicable Charles le Mesurier and as Hawthorne has told Horowitz many times during all three novels, all the clues are there for him to solve the crime, we're told once more, and you'll be kicking yourself you didn't listen to Hawthorne's sage advice when the killer is eventually unmasked. 'A Line to Kill' is a multi-layered novel and Anthony Horowitz cleverly reveals the tricks of what makes a great crime novel as well as delivering a great crime novel. Despite Horowitz 'reluctantly' signing a three-book deal, and this now being complete, I hope there are more. This is a series that deserves to run. The ingredients are all there for this being a classic of the genre, and after three books, is rapidly becoming one of my favourites.