A Good Day To Die
"..a talent who has violently exploded onto the crime fiction scene and is taking no hostages"
Synopsis:
It's been ten years since Pretty Boy left the big city - today he's back. No one knows why, but it's clear that revenge is on his mind: he is determined to make the person responsible for his exile from the London scene finally pay. But his plans seem derailed when he takes possession of a bracelet, unaware that its original owner has set a high price for its safe return. Suddenly, the hunter becomes the hunted and Pretty Boy will have to find out if it is indeed a 'good day to die'.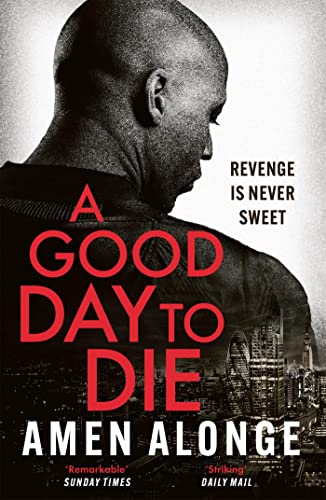 Purchase the book from Amazon.
Review:

Pretty Boy is back and ready to make waves in one single day. Revenge is on his mind. Revenge may not be sweet, but after ten years it is certainly well damn cold! I can't really make a comparison, but Alonge's debut certainly makes the film, 'The Long Good Friday' a walk in the park. I would highly advise you desist from getting comfortable with any character as the chances are quite high that they will be despatched in a violent manner. The language can be as colourful as the characters, and I have to shout out my love for the two Nigerian mercenaries, Tosin and Jide. These guys could have their own book! Despite the high body count, Alonge wonderfully manages to add some humour to the mix. There were points I laughed out loud and then felt hugely guilty for doing so! I loved how Alonge juggled his chapters, the way they go back and forth without being confusing. The ending is quite open, and according to the author in his Q&A, we shall see more of Pretty Boy... I hope immediately following on from 'A Good Day To Die'. I am looking forward to seeing where he takes us with his next book. Amen Alonge is a fresh, new talent who has violently exploded onto the crime fiction scene and is taking no hostages. Massively enjoyable.